Miracle Sponge
KEEP YOURSELF AND YOUR FAMILY HEALTHY WITH THIS AMAZING ECO-FRIENDLY SPONGE THAT STAYS CLEAN!
♻️ BPA Free
♻️ 100% Bacteria Resistant
♻️ Odor Resistant
♻️ Long-Lasting and Durable
♻️ Will NEVER Break or Smell!
Enchantment Sponge is the best way to clean your dishes - because conventional plastic sponges soak up germs!
Save your family from all the bacteria and start truly cleaning your dishes the smart way.
The average family wastes about 47 plastic sponges ($40.42) per year!
SILICONE SPONGES ARE BETTER FOR YOU, YOUR FAMILY, AND THE ENVIRONMENT!
OCEAN SAFE 
| | |
| --- | --- |
| NON-HARMFUL TO ENVIROMENT | BILLIONS OF FRAGMENTS POLLUTE THE OCEANS |
MADE FROM 
| | |
| --- | --- |
| COMPRISED PRIMARILY OF INERT SILICONE (SAND) AND OXYGEN | PETROLEUM BASED WITH ESTROGEN MIMICKING |
DURABILITY 
| | |
| --- | --- |
| CAN LAST FOR OVER 10 YEARS, REDUCING A DECADE OF PLASTIC WASTE | SUSCEPTIBLE TO BACTERIA AND MOLD. IT ALSO DEGRADES AND STIFFENS WITH TIME |
POLLUTION 
| | |
| --- | --- |
| BIODEGRADABLE | IT TAKES OVER 400 HUNDRED YEARS TO START DECOMPOSING |
YOUR OLD SPONGE IS FILLED WITH GERMS, BACTERIA, MOLD, AND DISEASE… AND IT CAN HURT YOU AND YOUR FAMILY.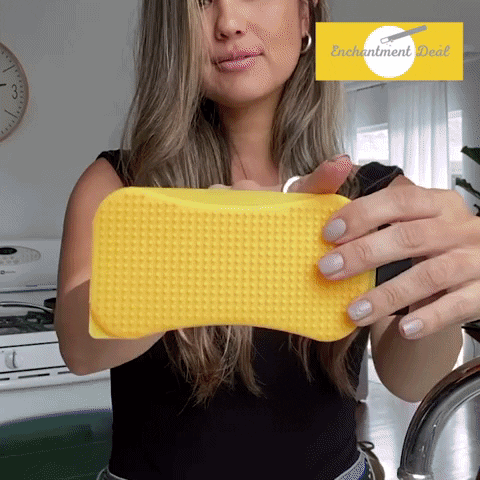 GET 5 SOLUTIONS IN 1 PRODUCT!
EACH SIDE HAS A DIFFERENT TEXTURE FOR 360º CLEANING
PLASTIC DESTROYS OUR PLANET!
LET'S MAKE OUR WORLD GREEN AGAIN! CHOOSE SILICONE!
"With more than 5 trillion pieces of plastic floating in our oceans, using less plastic means contributing less to this mounting mass of plastics lost in our environment and poisoning our wildlife"
Our products are backed by a risk-free 60-day money-back guarantee. If you don't love how clean your Enchantment Sponge is, we will do WHATEVER it takes to make it right!